We are here with an exciting article on DLS FC Augsburg Kits 2023. Today you will get the working dream league soccer DLS FC Augsburg Kits and the logo as well. All the home, away, and third kits are available in 512×512 size. So, stay with us and check out the complete article!
There are many users who requested the latest Custom DLS kits 2023 and we always try to fulfill their requests. For the last couple of days, we are busy with some new things which are also coming on this website. You need to stay active on the website and share the content with others. Also, if you want us to create your custom-designed kits then email us or comment below.
DLS FC Augsburg Kits 2023
FC Augsburg is a famous Bundesliga league football club and in DLS games people use its custom kits. The kits available here are working and in the best format. We frequently update the kits import link, you just need to use the URLs and import them!
If you are new to our website, just follow the steps to import the kits into the game. The DLS kits hub provides you with the way and different sources as well from where you can easily access the latest and working kits. Our priority is to satisfy our visitors and provide them with the most authentic and working DLS kit material!
FC Augsburg Home Kits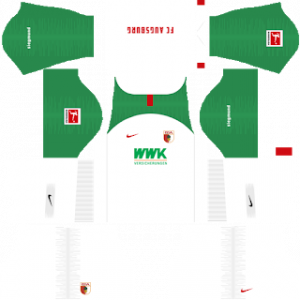 https://i.imgur.com/IxX3KT7.png
FC Augsburg Away Kits

https://i.imgur.com/LggVV1L.png
FC Augsburg Third Kits

https://i.imgur.com/9QdxO9V.png
FC Augsburg Goalkeeper Home Kits

https://i.imgur.com/GSDwVcw.png
FC Augsburg GoalKeeper Away Kits

https://i.imgur.com/xIk0nBr.png
FC Augsburg GoalKeeper Third Kits

https://i.imgur.com/bfN05Oh.png
Dream League Soccer FC Augsburg Kits Logo 2023
FC Augsburg Logo is available here, you can use the logo on the kits for team beading. Usually, the custom kits are blank without any logo of the official team. You can use this logo for team branding purposes. All the rights of the logo are owned by the official FC Augsburg team!
Just like the kits, the import procedure is the same as with the logo. Still confused check our import guide below.
FC Augsburg logo PNG 512×512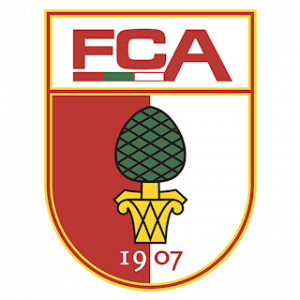 FC Augsburg Logo URL
https://i.imgur.com/PDydV1l.png
512×512 FC Augsburg Kits 2023
There are many kits available online in different pixels and sizes. But the 512×512 kits are only working in the game. For that reason, we always create and publish kits of that size. In short, you just import the kits without any trouble. Follow us on social media as well for more collections!
The logo. home, away, goalkeeper, and all other types of kits are only available in the recommended size. So, what are you waiting for just to use the URLs and import them into your game and play!
Some Information about the Team
FC Augsburg is a Germany-based professional football team playing in the Bundesliga league. The team's full name is Fußball-Club Augsburg and founded on August 8, 1907. This German football club featured in many games including the most popular Android game the Dream League Soccer.
FC Augsburg club won many national championships. The team won the German Under-19 championship final and other national cups as well. FC Augsburg performs very well in Bundesliga league. If you want to check the complete list of achievements, check their official website!
Due to the huge popularity of the team is featured in many games like Dream league soccer. People love to play the game with their team and search for its Kits and custom logos for branding. We took a step and provide your eh most authentic custom kits in the recommended 512×512 size.
| | |
| --- | --- |
| Team Location | Augsburg, Germany |
| Founded in | August 8, 1907 |
| Arena/Stadium | Augsburg Arena |
| Team Major Leagues | Bundesliga, DFB-Pokal |
New users and players are facing some kind of error at some point when they are trying to import the kits into the game. So, for that reason, we have this amazing step-by-step guide for your which contains all the required steps. Follow the instructions carefully and I am sure that you can easily import them into the game!
Search for your desired kits on our website.
Then find the 512×512 px kits and Logo URL.
Open the URL and you will find the Kits image.
Now, Open the Dream League Soccer game on your android or IOS device.
Select MY CLUB in the Menu bar section
Here you can find the option Customize TEAM, click on it.
Select the Logo Edit or Kit Edit option.
On that screen, you can get an option to Download, and select it.
The URL insert space appears, put the URL in it (which you copy from our website)
Finally, Select the Confirm option and the Kit or Logo will automatically import.
So, I think you are enjoying our latest DLS FC Augsburg Kits. Follow us for more Dream league soccer content and kits. Subscribe to the newsletter for free daily updates and notifications. Thank You for visiting!